No Crypto Volatility Risk
Merchants are protected from the volatility of cryptocurrencies thanks to stablecoins. For every $100 product sold, businesses will receive the corresponding full value of $100. This helps merchants maximize revenue potential by taking advantage of the benefits of digital currency payments, without facing the fluctuations inherent in cryptocurrency markets.
Support for Crypto and Bank Transfers
We offer comprehensive support for over 160 different cryptocurrencies, including Bitcoin, with simple and secure payment options through popular wallets and exchanges, as well as via bank transfers. By providing businesses with access to a wide range of digital currencies, our platform enables them to tap into new opportunities and markets with ease.
APIs, SDKs, and Plugins for Easy Integration
Merchants and partners alike can quickly and easily integrate RocketFuel into their shopping cart, website, or software application. Our comprehensive platform offers seamless integration with all major digital payment systems and provides a secure, efficient solution for businesses to accept cryptocurrency payments.
Feature-Rich Merchant Dashboard
Our easy-to-use interface enables you to manage your funds, send invoices and track customer payments with ease. Our cutting-edge technology provides businesses with a seamless, intuitive platform for managing their finances, streamlining the payment process and creating a secure environment for customers.
User-Friendly Payment Interface
Enjoy a convenient, streamlined checkout process with 1-click checkout and no redirects. Our optimized system allows customers to pay quickly and securely with minimal effort, giving merchants peace-of-mind knowing that their payments are secure.
Easy Refunds
Our advanced merchant dashboard allows you to quickly and easily approve shopper refund requests with no additional fees. Our intuitive system makes managing refunds a breeze, so merchants can be sure they are providing excellent customer service while remaining secure and compliant with industry standards.
No Chargebacks and Declines
Eliminate chargebacks and enjoy frictionless sales with our secure system. State-of-the-art fraud detection and ID verification keep transactions safe from any fraudulent activity, so merchants can be sure their customers are always protected.
Low Transaction Fees
Merchants can save on fees with our advanced payment solution by paying less than they would to credit card companies. With no additional costs and transparent pricing, you can rest assured that you will always get the most value for your money.
Integrate with your business
Accept bank transfers, Bitcoin, Ethereum, and more than 160 other cryptocurrencies with our e-commece crypto payment solution. Shoppers pay with crypto, merchants settle in dollars (or any other traditional local currency) – the next day.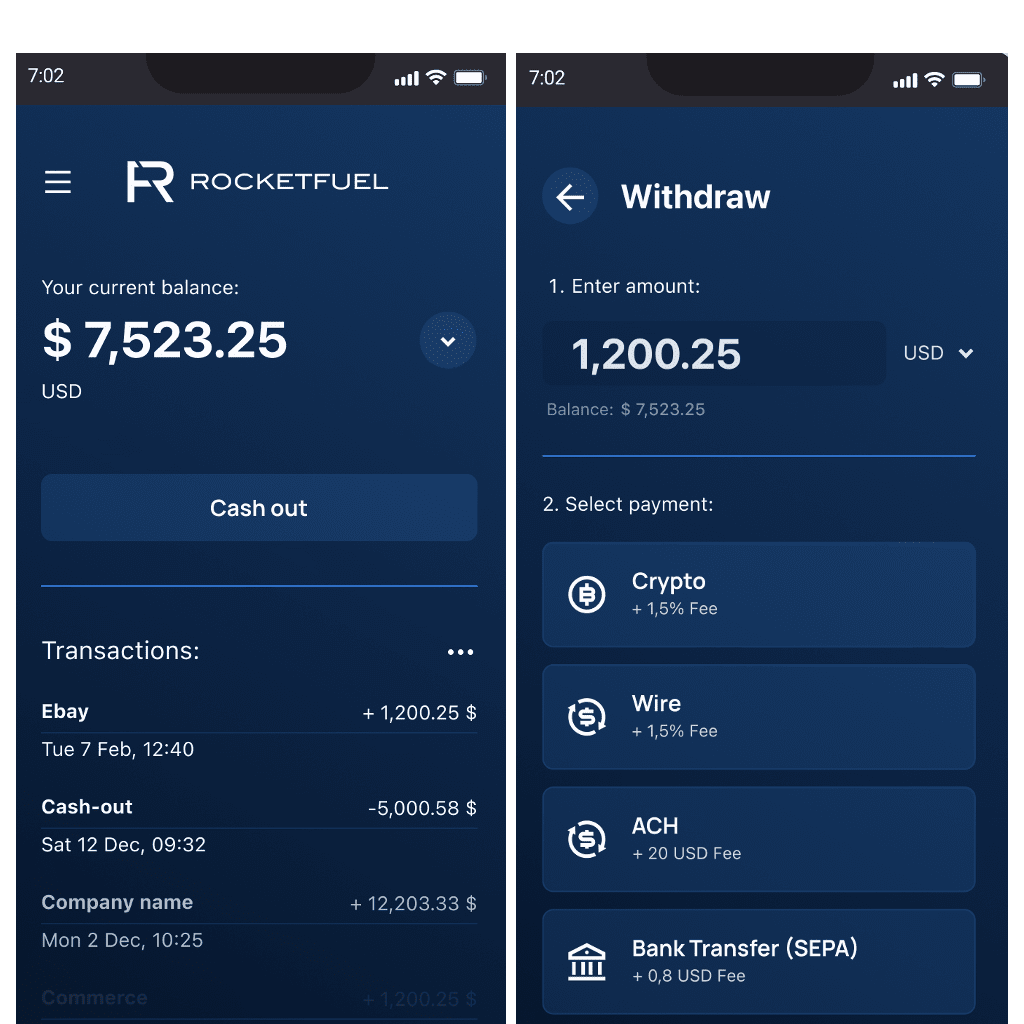 Payouts
Unleash how you make payouts with RocketFuel. Our cutting-edge platform empowers merchants like you to streamline both FIAT and cryptocurrency payouts. With RocketFuel, merchants can effortlessly settle payments with a wide array of payees - from content creators and vendors to feelancers, contractors, and employees. Payouts further broadens a merchant's reach, particularly in sectors prone to high-risk payments, thereby opening up new avenues for user engagement and expansion. RocketFuel's payouts are faster and easier.
Are you a merchant and want to make a payment?
Are you a payee and want to receive a payment?
Invoicing
If your business doesn't have an e-commerce solution, you can still create invoices for your clients. RocketFuel's innovative dashboard and API features enables merchants to invoice with crypto and ACH bank transfers.
Create and pay invoices
Rocketfuel's platform generates desktop and mobile friendly invoices that can be sent directly to your customers via email, or generate a link to send with an existing email through your existing invoicing product that simply populates our hosted checkout.
Integrate with your shop.
Accept bank transfers, Bitcoin, Ethereum, and more than 160 other cryptocurrencies with our ecommece crypto payment solution. Start accepting
payments and get paid in USD.
Integrations