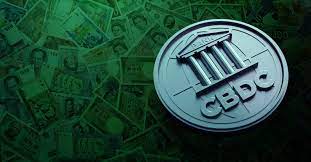 The world's attention has recently been garnered to cryptocurrencies and Central Bank Digital Currency (CBDC). Cryptocurrency is any digital or virtual currency that employs encryption on the blockchain to protect transactions. Cryptocurrencies lack a central issuing or regulating authority, instead relying on a decentralized system to track transactions and generate new units.
CBDC, on the other hand, is a digital version of central bank money generally accepted by the general public. They are based on the value of a country's fiat currency. Think about a digital dollar, euro or peso. CBDCs are being developed in several countries. For example, at the announcement of the Union Budget 2022-23, Finance Minister Nirmala Sitharaman stated that the Reserve Bank of India (RBI) would shortly launch its digital currency.
There are several differences between cryptocurrencies and CBDCs. But the question is who has more potential and what will last longer in comparison.
Crypto's Edge Over Central Banks' CBDCs
Because of the fundamental property of centralization, CBDCs are not much different than the regular currency. On the other hand, the world is moving towards decentralization, and many organizations, brands, and companies have decided to make crypto one payment method. The industry has grown much bigger as many crypto payment solutions companies like the RocketFuel have dominated the ground. Additionally, crypto, despite of its volatility, provides an ultimate opportunity for investment for every level of trader/investor. Nowadays, you can use stable coins to counteract volatility.
Privacy is one of the main concerns leading to making cryptocurrency more transparent compared to CBDCs. Cryptocurrencies work on a blockchain mechanism where the transactions are stored and offered to the public. In contrast, the banks' CBDCs are just as cash but in digital form. Unlike cryptocurrencies, the record won't be offered to the public.
CBCDs, in comparison with cryptocurrencies, are far different. While examining the potential of crypto in today's world, the threat of CBCDs overshadowing crypto is not a real one. CBDCs' primary purpose is to provide privacy, transferability, convenience, accessibility, and financial security to companies and consumers. Yes, but crypto does it more efficiently: there's a reduction with maintenance costs of a complicated financial system, lower cross-border transaction costs, and lower-cost choices to people who currently utilize alternative money transfer methods, in other words, remittances. Cutting short, cryptocurrencies and CBDCs are not on the same path, so the comparison is not worthwhile for now.
#paymentsolutions #payments #payment #paymentgateway #paymentprocessing #paymentindustry #paymentsinnovation #paymentsolutions #paymentsolution #paymentservices #paymentprocessingsolutions #cryptocurrencies #cryptonews #cryptocurrencynews #crypto #cryptocurrency #cryptopayments #pasareladepago #criptopagos #Bitcoin
#bitcoinnews #blockchainnews #blockchainsolutions #blockfi #blockchainrevolution #blockchaintechnology #blockchaincommunity #defi