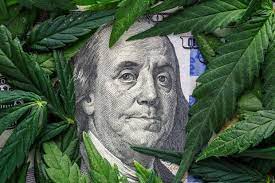 Let's be real. The cannabis industry is still having major issues with the banking system. Often times, credit card companies clock purchases at dispensaries and other establishments. While cannabis has gone mainstream, businesses still have to deal with figuring out a way to conduct transactions. Lots of these purchases happen in cash, but think how ridiculous this sounds? What if you want to order something online?
The problem with some of these purchase stems from the fact that while many states have passed laws to regulate the use of medical and recreational cannabis, it is still illegal at the federal level. The banking industry is still scared making it hard for customers in those states where it is legal to make purchases in a regular way.
What we are seeing as a crypto payment solution company is that more and more people are making purchases with Bitcoin and other coins. We believe that trend is inevitable as we are heading toward a new, faster and libertarian monetary system. At the same time, we are also being sought out by dispensaries to provide real-time solutions to the payments conundrum they are currently going thru.
If a shopper pays buys $100 worth of product in Bitcoin at a dispensary, the merchant gets exactly $100 FIAT DOLLARS in its bank account minus our tiny fee. Credit cards companies currently take between 3-8% in fees per transaction and transactions can still be blocked.
Any dispensary or cannabis business that is not taking crypto payments is leaving money on the table. For instance, with RocketFuel's solution, any business can receive payments in Bitcoin and approximately 160+ cryptocurrencies. There are no chargebacks, no declines, no fraud – as it still happens with credit cards. RocketFuel's blockchain-solution make transactions transparent, faster and effective. On top of that, the merchant receives the payment the NEXT DAY.
What if the customer doesn't own crypto? RocketFuel can help him/her acquire it using traditional payments methods, use that crypto to immediately fund the merchant, and then settle to the merchant in fiat. RocketFuel is crypto agnostic, risk adverse and guarantee next business day settlements.
The U.S. cannabis market size was estimated at USD 10.8 billion in 2021 and is expected to reach USD 13.2 billion in 2022. But it could be bigger. A lot of money is left on the table because of the problems with the traditional banking system and it could only grow if dispensaries and other cannabis merchants had the vision to onboard non-traditional forms of payments.
To read more about how merchants can receive crypto payments, click here: https://www.rocketfuelblockchain.com/merchant